Stand-up paddleboarding is one of the fastest-growing watersports in the world. Torbay is one of the most popular coastal resorts in the UK. Put them together and what have you got? Stand-up paddleboarding in Torbay – a maritime marriage made in Devon. Or is it?
Having called this beautiful area of the world home for most of our lives, there's no doubt in our minds that Torbay has all the right elements to make the perfect paddleboarding paradise. It has:
Approx 22 miles of geologically unique coastline
16 square miles of open sea
Over 40 diverse beaches and coves to explore
Crystal clear, award-winning blue flag waters
A mild climate
Shelter from the prevailing winds
No notoriously dangerous tidal currents
Plus, it has all the facilities and convenience of a modern holiday resort close to hand. What more could a paddleboarder ask for?
The problem with Torbay (at least for the stand-up paddleboarder) is that there's too much choice. Even for born and bred locals like us, picking a place to paddle can be a difficult decision. For the visiting paddleboarder, it must be a nightmare. So, we thought we'd help you out.
We're going to take you on the ultimate paddleboarding tour of Torbay.
We're going to talk about the how, the when, the where, and the why of stand-up paddleboarding in the bay. We're going to tell you what to look out for, what to expect, and, using our local knowledge, we're going to recommend the best places in Torbay to paddle based on experience and skill level.
Oh, and if all this sounds great but you currently don't own or have access to a paddleboard, we're also going to link you to some places locally where you can rent/hire or buy one. Can't have you missing out, can we? – (FYI – We're not affiliated with any of them)
So, get your GoPros or waterproof cameras at the ready. Go grab yourself a SUP board and, together, let's find out what Torbay has to offer.
Whether you're a paddleboarding beginner or a SUP expert. Whether you're new to the area or familiar with it. Torbay has something for stand-up paddleboarders of every type.
We guarantee it!
Table of Contents
This is a COMPREHENSIVE guide to stand-up paddleboarding in Torbay. Though we strongly suggest you read the whole thing, we appreciate you might just want to get straight to the juicy stuff. If that's the case, click on the Quick Links tab below to fast track to a particular section of this post.
THEN come back and read the rest. It'll be worth it.
SUP Boarding on the English Riviera
Tor Bay (Torbay), is a bay on the southeast coast of Devon in the UK. In simple geographic terms, it's an east-facing natural harbour sheltering on the inner curve of the much larger Lyme Bay that opens out into the English Channel. In reality, it's much more than that.
Due to its sheltered location from the prevailing south-westerly winds and thanks to its mild climate and spectacular geology, Tor Bay has been one of the UK's most important and most popular maritime locations for centuries. In fact, you could argue its popularity stretches even further back than that.
Much further back.
Did you know that of the 4 species of humans ever to have lived in the British Isles over the last 750,000 years, 3 of them have lived in Tor Bay?

Did you know that the earliest known fossil from a modern human in the whole of North-Western Europe was found in Kents Cavern – a public show cave just up the road from the spectacularly scenic areas of Anstey's Cove and Meadfoot Beach in Torquay?
And where's Torquay? In Tor Bay.
"So what?", we hear you say. Well, get this!
There are only two caves in the World where three or more different species of humans are found, and only one is a showcave, a cave open to the general public, and that is Kents Cavern.
Source: Evolution of Man – Kents Cavern
Two caves in the whole world? Wow! And one of them is in Torbay?
Seems like it might be a popular place.
Note: Unfortunately, archeologists have yet to find any evidence of the 4th species of human or of primitive paddleboards in Tor Bay (though we believe it's only a matter of time).
It might not sound like much, but what this tells us is obvious. We, humankind, love Tor Bay and have done so for a long long time.
As for the modern conurbation of Torbay, it's made up of 3 towns; Torquay, Paignton, and Brixham. Each has its own distinct personality and feel. Each has its own active harbour and marina. And each has its own unique coastline to explore.
As a result (and unlike some other UK coastal resorts we could mention), there's a lot for the stand-up paddleboarder to see and do. And we mean a lot.
Though it's only roughly 4.5 miles (as the crow flies) from North to South, the area under Torbay's maritime control actually comprises over 22 miles of coastline and 16 square miles of open sea. In this relatively small area, Torbay's complex geology has given rise to over 40 beaches and coves.
Some are your traditional picture-postcard, bucket and spade beaches. Others are definitely not. They're wild, rugged, remote, and hard to get to. In fact, in some cases, they're only safely accessible from the sea. Which makes owning or hiring a paddleboard one of the absolute best ways to explore and enjoy them.
What's that? You've got one? Great, let's get you out there then.
Places to Paddleboard in Torbay
Paddleboarding anywhere new can be hit and miss. If you're limited for time, and especially if you have little local knowledge, it can be hard to pick the right place to paddle for your skill and experience level. Fortunately, when it comes to choosing where to paddleboard in Torbay, we've made it easy for you.
Super easy!
We've created a series of guides listing every single paddleboarding spot each Torbay town has to offer. In those individual guides, we looked at every location from a local paddleboarder's perspective. We described them. We visited them where possible. And we took lots of pictures – we hope to add video too at a later date.
For many paddleboarders that would be enough. However, for us at gonepaddleboarding.com, enough is never enough. So, we went one step further. We took every location (all 40+) from each of the guides, ruthlessly rated them, and created a best of guide from the winners too.
Now, if you want to know where to paddleboard in Torbay you have absolutely no excuse. And if, after all that, you still can't find a place to paddle in our lists, then we suggest you take up something less…fun.
You can access the guides and discover our top personal recommendations by clicking on the link below. But, before you do, make sure you read the rest of this guide first. It contains important safety information and background detail you WILL need to know before you paddle out into the bay.
Best Places to Paddleboard in Torbay
I've read all of the super-useful local background information that only somebody who has lived in Torbay for a long time could provide. Thanks for that! And I'm also now fully aware of the main safety requirements and local maritime Byelaws – cool to know you've got my back, though I appreciate you're not experts and I promise to do my own research too.
Stand Up Paddleboarding in Torbay – Safety on the Shore & at Sea
NOTE: We are not experts and laws can change. So, when it comes to current guidance and safety, ALWAYS DO YOUR OWN RESEARCH
Under UK maritime law, there are certain rules you must follow when using your stand-up paddleboard. Those rules apply wherever you paddleboard at sea in the UK.
In addition, as no part of the coastline is exactly the same, each local maritime authority also has its own specific rules. It's very important that you familiarise yourself with both before you paddleboard anywhere new – not just for your own but for other people's safety too.
Let's start with your paddleboard.
Recreational Beach Gear or Small Sea Vessel?
In general, if your paddleboard is inflatable or hard and is 3.5m or approx 11.5 feet in length or less, it's classed as "recreational beach gear". If your paddleboard is longer than 3.5m, then it could be classed as a "small sea vessel". What you can and can't do under UK maritime law depends on how your SUP board is classified.
Recreational beach gear must stay within 300 hundred metres of the shore
Small sea vessels can travel up to 2 nautical miles from sheltered areas – with strict safety provisos
So, in theory, if you own or paddle a SUP board over 3.5m in length you could (provided you have the correct equipment and have followed the safety guidance) head straight out across the bay. In reality, if you want to enjoy the sights and sounds of some of the UK's most spectacular coastline, why would you?
With regard to paddleboarding in Tor Bay, the Tor Bay Harbour Authority website will provide you with much of what you need to know regarding local byelaws, navigation and safety at sea in the bay.
Make sure you read it. It's important local information which, although we touch upon some of it in this guide, is the original, definitive and most up-to-date source.
UK maritime law specifically relating to paddleboarding is a little more difficult to find. However, there's a good guide to the main SUP rules you need to know at sea on Decathlon's website. Make sure you check that out too.
And, just for the sake of comprehensiveness, here are our own personal safety recommendations based on our many years of experience living, playing and, more recently, paddleboarding in Torbay.
Paddleboarding in Tor Bay – Local Safety
Although Torbay is as safe for stand-up paddleboarding as anywhere else, it's essential that you take precautions when paddleboarding anywhere new. Here are some things we think you should especially look out for locally.
Tor Bay's coastline is spectacular. Hundreds of millions of years old, it plays out over its 22-mile length in a fascinating and complex visual mix of limestone, shales and sandstone. Trust us. It'll be one of the first things you notice from your paddleboard and one of the last you'll forget.
It's also geologically significant. The geology and fossil record in and around Tor Bay played a major part in the naming of the Devonian period of geological history. In fact, Geology students travel from all over the world to study Tor Bay's coastline – clambering around Hope's Nose, Daddyhole & Saltern Coves amongst others, with their hard hats, high-vis jackets and rock hammers.
It's also why Tor Bay (the "English Riviera") was one of the first areas in the world to receive UNESCO-designated Global Geopark status. This is no empty award. It's only given to a limited number of unique places that tell an important part of the story of our planet.
This means a number of things for the stand-up paddleboarder. 
It means you'll be paddling along some of the most important, educational, and content-laden coastlines in the whole of Europe, if not the world. It's not often you get to do that, so take some time to really discover where you are. Southampton University has a very comprehensive online guide to the geology of the Torquay coastline. It's an interesting read and, more importantly, has lots of unique pictures of many of the paddleboarding locations we mention in our lists. The Open University has a similarly fascinating guide to the geology of parts of the coastline around Paignton. Check them out. Your IQ will rise 10 points just by clicking on them.
It also means much of the coastline and areas offshore are protected, so you must treat it with respect. You're encouraged to touch and take part in Tor Bay's story, but try to leave as small a footprint as possible. Fortunately, you'll be on a paddleboard so it should be easy. Still, if you do get off your board to rest, picnic or explore, pick up behind yourself. And be careful in and around the cliffs because…
It can be dangerous. Softer sandstone, in particular, is prone to erosion, and rockfalls and landslides are par for the course over time. You'll see plenty of evidence of this when you're out paddling – both above and below the water. Coarse red sand and crumbling cliff faces (especially in the northern parts of Tor Bay's coastline i.e. Oddicombe Beach) are prominent features in places. Jagged limestone bluffs rising hundreds of feet above you are common in others. Giant boulders and partially submerged rocks are practically everywhere. While this can make the scenery look rugged and wild and spectacular, and though it can make paddling around and through rocks and natural arches fun, it also highlights potential problems and hazards for the paddleboarder.
Always take care when getting on and off your paddleboard. The coastline close to the shore is likely to be full of submerged rocks and seaweed and the swell and wave action near to the coastline can make balancing on your board tricky. The last thing you want is to get hurt jumping or falling off your board, to get tangled up in seaweed or to find yourself stranded in a remote cove only accessible by sea, while your paddleboard (with dry bag attached) floats off into the distance. In difficult or unknown conditions, be sensible. In wobbly or lumpy waters, do what we do – kneel or sit down. Lower your centre of gravity. Take a break. If in doubt, sit it out.
Oh, and one more thing. Never ever leave your paddleboard bobbing about unattended while you go off and explore. Or it will too.
So now you know that it's time to make sure you're fully prepared and properly kitted out with the right paddleboarding gear before you take to the water.
Safety Preparations & Equipment
At a bare minimum this means:
Checking the local tide times, wind conditions, and weather forecast. Use this Met Office link to see the daily forecast for any Torbay beach. Then factor this information into your paddle trip. Not only could it save you from wasting your time – e.g. turning up at the beach with your board only to find the offshore wind warning flying, but it could also potentially save your life. 
Making sure your paddleboard is inflated to the right pressure. You might think it doesn't matter, but a properly inflated SUP board can make a real difference to your speed, maneuverability, and stamina. Use our own explosive guide to paddleboard psi to help find yours.
Making sure your SUP paddle is adjusted to the right length for your height and for the conditions. It's so easy to just grab your paddle and go. However, do that and you're losing out. Trust us! We've been there. Taking a minute or two to adjust your SUP paddle to the right length for your height and the conditions can have a massive impact on your whole paddleboarding experience. Whether you're SUP Touring, SUP surfing, or even SUP racing, a properly adjusted paddle will increase performance and reduce the potential for paddle-induced physical injury. Use our SUP paddle length guide and interactive SUP paddle sizing chart to find and fine-tune yours.
Make sure you're wearing a wetsuit, boots, rash vest, or other paddleboarding gear appropriate for the conditions. Water cools you down far quicker than air and in stand-up paddleboarding you can't always guarantee that you'll stay on top of the water. Even SUP pros get wet clothes. Wetsuits not only keep you warmer for longer, but they also help with buoyancy in the water. Plus, they're useful protection from cuts and abrasions caused by rocks and also from the occasional stings and bites of unseen marine animals. If you're paddleboarding in Tor Bay we highly recommend you wear one. Our seawater is cool to cold. Our beaches are not always soft and sandy. Our marine life is not always friendly.  
Make sure you wear an ankle leash attached to your board and a personal flotation device (lifejacket). If you're paddling somewhere new, unknown, and possibly remote, this goes without saying. On the water, both are your lifelines. Don't throw them, or it, away.
Make sure you take along a stowable dry bag to hold your mobile phone, and other essentials e.g. sunglasses, sunblock, hat, food & drink, change of clothes etc. Make sure it's stowed securely under the cargo netting on your paddleboard. Also, make sure your mobile phone is fully charged and in its own separate dry case. You do have a mobile phone, don't you?
Unlike in my youth, calling for help at sea no longer involves waving your arms wildly about or shouting loudly for your mum. Now, if you're out paddleboarding and you find yourself in difficulty, you have something quicker, better and far more effective you can use. Your mobile phone.
According to the Lifeboat Institute (RNLI) website, mobile phones have a range of up to 18 nautical miles. That might sound odd to those of you who can chat fine on your phone in the living room but have no signal in the kitchen. Still, they wouldn't say it if it wasn't true.
Though a range of 18 nautical miles probably only applies in perfect conditions they do suggest that, in general, a mobile phone should be sufficient if you're close to shore. That's because voice reception can work over a weaker signal than data. And a text can sometimes get through when the signal is weakest of all.
So, take your phone with you. You might not be able to browse the net, but you should be able to rouse the coastguard. And that applies even if you have no signal from your provider.
If you call an emergency number in the UK, even if your phone shows no service, the call will be re-directed to any other phone network within range. So, just because it looks like it won't work, it doesn't mean it won't. Try it anyway.
Who to call in an emergency
If you find yourself in an emergency situation or spot someone else in trouble, you should call 999 or 112 and ask for the coastguard
Source: rnli.org
And one more thing. The RNLI website also advises that your mobile phone be kept not only in its own separate dry pouch but that it should also be kept on your person at all times. That's because, in an emergency situation, it's the one thing that will get you help the quickest. So keep it close.
Sound advice, we think.
Literally.
There are two coastguard rescue teams based at Paignton and Brixham. There's also a National Coast Watch lookout at Daddyhole Plain in Torquay – manned by volunteers. The majority of Torbay's beaches are considered safe enough not to need lifeguards. That doesn't mean you can afford to be complacent. Though risks are generally low, stats kept up to Nov 2020 showed that lifeboat call outs for paddleboarders in the bay are increasing – Torbay Lifeboat Lifesaving Plan
Paddleboarding in Torbay – What else you need to know
So, now we've touched upon local safety, let's talk about what else you might need to look out for if you plan on paddleboarding in Torbay.
Let's talk about Torbay's on and off-season and the differences between the two for paddleboarders. Let's talk about Torbay's tides and temperatures and its water and wind conditions. Let's talk about things to look out for e.g. angry anglers.
And let's talk about some of the fabulous things to see and do when out on your board in the bay.
Torbay in summer is different to Torbay in winter. Stand-up paddleboarding in Torbay in August is very different to stand up paddleboarding in Torbay in February. It might sound obvious, but the differences for the paddleboarder extend beyond the simple fact that it's colder.
Most of Torbay's traditional "beach season" occurs between the months of May – September. And what a beach season it is!
Normally (i.e. when there's not a global pandemic), this is when Torbay's towns, holiday camps, hotels, and beaches come alive. It's also when the serious water sport enthusiasts haul their jet skis, speed boats, and yachts out of storage and head out to have as much fun as their fuel tanks will allow.
For the stand-up paddleboarder, this can be a problem. Public car parks fill up quickly. Beaches heave with bodies. And some areas off the Torbay coastline begin to look and feel as cramped as the places onshore – particularly on a sunny day.
Knowing where such places are can mean the difference between a relaxing day of fun paddling through flat water looking for seals and dolphins, or a frustrating day getting battered by jetski wakes while watching out for divers and diesel spills.
We know which we'd choose. If you've ever had to get diesel oil out of a wetsuit you'll know which too.
Marker Buoys & Active Waterski Lanes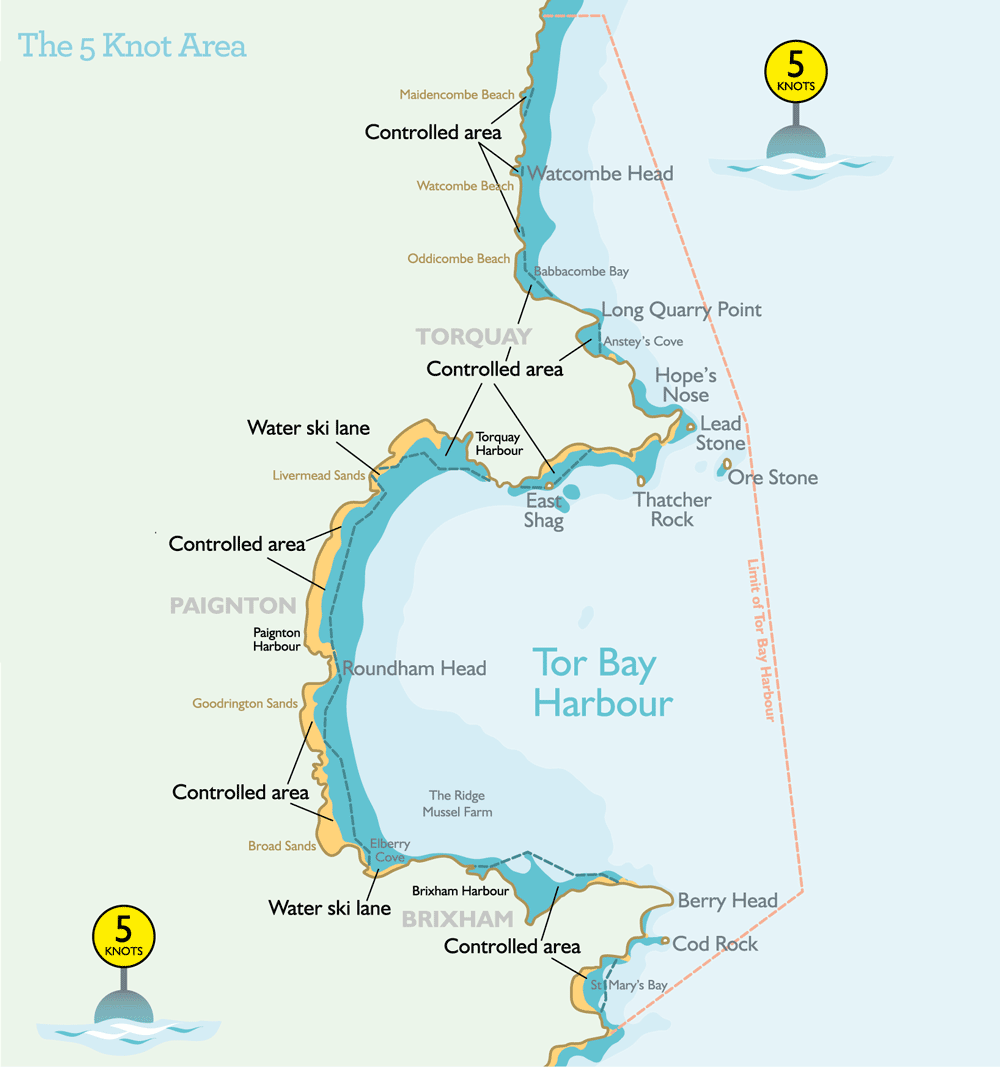 SOURCE: tor-bay-harbour.co.uk
To protect swimmers, kayakers, and paddleboarders from all that high-speed hustle and bustle, 5-knot max speed yellow buoy markers are laid out close to the Torbay shore from May to September.
For your own safety, keep within the yellow marker buoys when paddleboarding where possible.
It might mean taking the long way round in some areas, but it's far less hassle, believe us.
Another thing to watch out for are yellow conical buoys that mark the entrance to waterski approach lanes. Torbay's active waterski lanes can be found from May – September off Livermead Sands in Torquay and off Elberry Cove on the Paignton/Brixham boundary. If you plan on paddleboarding in any of those areas, make sure you familiarise yourself with the layout beforehand.
And watch out for SMB's (Surface Marker Buoys) belonging to divers and open sea swimmers. A few locations in the bay are popular diving and wild swimming spots. If you see a marker buoy, especially if it's moving, give it a wide berth.
Speaking of which…
Fishing is a popular local pastime in Torbay and although you won't catch (excuse the pun) many people fishing in the busy tourist locations during summer, there are a number of local angling spots that stand-up paddleboarders should watch out for.
Be extra careful when paddleboarding in any of the following locations. In our experience, these are the places locally where you're most likely to find people fishing during the day and night time – especially in warmer weather.
Babbacombe Beach Pier
Off Long Quarry Point – near Redgate Beach & Anstey's Cove
Hope's Nose – near Hope Cove and Shennell Cove
Daddyhole Cove/Triangle Point area at the south end of Meadfoot Beach
Haldon & Princess Piers either side of Torquay harbour entrance
Paignton Harbour wall
Goodrington Promenade – North Sands under the cliff gardens
The rocks around Elberry Cove
Off Brixham breakwater
The quarries on the north-facing side of Berry Head
Tor Bay isn't just a place to paddleboard in summer, though. Admittedly the scenery, the water, and the wildlife look better in the sunshine than almost anywhere else, but Torbay's off-season has a lot to offer the stand-up paddleboarder too.
Ahhh! Torbay's off-season. Time to chill. Literally! Car parks are emptier. Beaches are quieter. Jetskis, speed boats, and 5-knot marker buoys are all moored and stored away. And, of course, temperatures drop.
Not only that, the wind and the waters in the bay change. Nature itself treats and tests you differently. It's an entirely new show. It's a whole other paddleboarding experience. It's not worse. In fact, in many cases, it can be better. It just becomes a different challenge for you and your board.
We'll tell you this, though. Gliding across water that's as smooth as glass on a crystal clear morning in winter waiting for the warmth of the rising sun to thaw out your face, should be on every stand-up paddleboarder's Torbay bucket list.
Just make sure you're properly prepared for the challenges of cold weather and, more importantly, cold water paddleboarding.
Torbay – Tides and Water Conditions
Tides
In general, Tor Bay is as safe a place to paddleboard as anywhere else. There are no super strong currents or dangerous rip tides. There are no major underwater hazards. However, the beaches and coves are tidal. And, in some places, and at certain times of the year, this could cause problems for the unwary or inexperienced paddleboarder. Why?
Because large bodies of water moving past "sticky out obstructions" such as headlands and islands can create faster-flowing currents and more turbulent conditions – or wobblier waters, as we like to call them. And Tor Bay has a number of "sticky out obstructions".
Around headlands such as Hope's Nose, Corbyn's Head, Roundham Head, and especially Berry Head, the tide may work with or against you depending on whether it's rising or falling.
Also, where tidal water is being squeezed between two large landmasses i.e. between the coast at Meadfoot Beach and Thatcher Rock, the current can feel especially strong.
It's always best to factor tides into any paddleboarding trip you make. Paddling against the tide can be tough. Paddling with the tide can be fun. A paddleboarder armed with the day's local low and high tide times has a real advantage. They can paddle out with one tide and back in on the other.
Why make something tougher than it needs to be?
Another thing you need to be aware of is that many of Torbay's beaches and coves disappear almost entirely at high tide and can be more challenging than perhaps you'd like at low. So checking the local tide times before heading out should be a top priority if you want to see them at their best.
And when is that?
** For safety – and especially for beginners – it's always best to try and aim to paddleboard during slack water **
Slack water is when the main tidal flow is at its weakest – normally 1-2 hours either side of high or low tide. However, this can differ depending on local conditions and whether it's a spring or neap tide. Sometimes periods of slack water can be shorter. What slack water does for the stand-up paddleboarder is to provide you with a tidal window for you to take your paddleboard out on.
In Tor Bay, and in general, slack water is when it's easiest to paddle, safest to navigate and, more importantly, it's when Torbay's beaches and coves are actually visible.
That's not to say you have to stick to safe and easy all the time. For experienced paddleboarders and adventurous SUP amateurs, paddling on different tides at different times of the year in the bay can be just as much fun.
For example, a low tide with strong easterly winds driving into the bay can give rise to some great SUP surfing conditions. Just make sure you pick a suitably safe sandy beach such as Broadsands, Goodrington Sands, Preston Sands, Paignton Sands, or Torre Abbey Sands to practice on.
Sea Water Temperature in Tor Bay
Depending on the time of year, seawater temperature in Tor Bay ranges from between approx 8 degrees celsius (46.4 fahrenheit) to 18 degrees celsius (64.4 fahrenheit).
The warmest water is normally found during the middle to late summer months e.g. July to October – when the sea has had longer to heat up. The water in the bay then gradually loses its stored heat until the following March – which, on average, experiences the lowest water temperature of any other month of the year. Then, from April onwards, the heating cycle starts again.
What does this mean for the stand-up paddleboarder?
Well, in summer it means the weather and the waters of Tor Bay will have warmed up enough for many people to believe they can paddle about in just their swimwear. It's a common sight along the shoreline. Paddleboarders in bathing suits. Do we recommend this?
No. Not if you plan on deliberately or accidentally spending any amount of time in the water. We can almost hear you now:
"Wait. What are you talking about? I've been swimming in the sea in the UK loads of times and not just in summer. It's not that cold. What's the problem?".
The problem is that water temperature is not the same as air temperature. And acclimatising yourself to cold water by slowly wading in is not the same as falling into it off your paddleboard.
Yes, people do have different levels of cold sensitivity and sub-cutaneous fat etc. but, in general, water will cool you down many times quicker than air and will cause significant physical and mental effects regardless of genetic makeup or experience.
To put it in context, cold water experts consider a water temperature of anything below 21 degrees celsius (70 fahrenheit) as potentially life-threatening. Torbay's maximum sea temperature never rises above 18 degrees.
So, what to do? It's beginning to sound like an anti-swimming-in-Torbay ad when it's anything but. The answer is simple. Wear a wetsuit. It's what they were designed for. You wear a suit designed to protect your body if it gets wet and to keep you warmer for longer when it gets cold.
Yes, you might not look particularly cool paddling around in the height of summer in a full-on wettie and lifejacket while transporting a stow bag full of "just-in-case-something-happens" items. But, if you're paddleboarding in Tor Bay and especially if you're paddleboarding anywhere new, it's the year's must-have look as far as we're concerned.
Every year.
Weather & Wind Conditions in Tor Bay
Temperature Range
Torbay isn't called the "English Riviera" for nothing! Boasting a climate mild enough for palm trees to flourish, its weather is rarely extreme. Summers are usually hot. Winters mild and wet. But there's still enough variety to make stand-up paddleboarding the easiest sport in the world one day and a challenge the next.
In August you could be baking on your paddleboard off Oddicombe Beach in temperatures pushing 30 degrees celsius. In January, you could be battling breakers off Broadsands beach in freezing rain desperate for a hot brew to defrost your insides.
Conversely, April in the bay can feel like heaven.
Historically, the warmest part of the year in Tor Bay is normally from June to September. July is generally the warmest and driest month, October the wettest – though it's getting more difficult to judge in recent years. Just think of it like this. What's a little rain to a stand-up paddleboarder?
Wind, however.
Wind Conditions in Tor Bay
** Always check the local tide, wind and sea conditions before setting out on your paddleboard **
Probably the most important factor to take into account when stand-up paddleboarding in the bay is the wind. Torbay has a unique microclimate and a confusing mix of wind directions to contend with depending on the time of day and year. Just ask any local sailor.
If you look at historical wind statistics for Torbay over a number of years, the prevailing winds tend to be WSW/SW. Fortunately, the geography of the bay and surrounding area provides good protection from them.
More serious problems tend to occur when easterly gales arise. In such conditions, east-facing Tor Bay is directly exposed to the destructive power of the wind and waves. You'll see evidence of this all along the softer, more easily eroded sandstone areas of the Torbay coastline and possibly hear of it in old tales of local shipwrecks and lives lost at sea.
However, easterly winds in Tor Bay (unless very strong) are not necessarily anything to trouble an experienced stand-up paddleboarder. If anything, they'll have a tendency to push you back towards the shore.
As a result, they may make paddling out far enough from rockier areas of the coastline more difficult and tiring. And, at low tides, they may also make waves larger and more challenging. But they're not overly dangerous if they're mild.
By far the most dangerous winds for any stand-up paddleboarder are offshore winds. Standing up on a paddleboard makes your body act as a sail and in a strong offshore wind, you can easily find yourself being pushed out to sea struggling to get back to shore. If you have an inflatable paddleboard, which is basically a stand-on balloon, offshore winds can be an absolute killer. Literally!
So, make sure you always check local wind conditions before you set out paddleboarding and try to be prepared if you ever get caught out.
In Torbay, the more popular beaches have beach safety flags on display indicating if it's safe to enter the water, or warning you when the conditions are dangerous. Keep an eye out for these flags. Never ignore them.
In particular, look out for any orange windsocks. If you see one and it's pointing horizontally straight out to sea, put your paddleboard away and go rock pooling instead.
** Never go stand-up paddleboarding when an orange windsock is flying **
If you do find yourself in a situation where you're being pushed out to sea by offshore winds, DO NOT abandon your paddleboard. It floats and is the safest and most visible place to be by far. If in doubt, sit it out. Sit, kneel down or even lie down and paddle.
Or just rest, gather your strength, and signal or call for help.
Paddleboarding in Torbay – Sights and Sounds
If you're a nature lover, you're in for a treat. If you're a stand-up paddleboarder, times that treat by ten. Owning or hiring a paddleboard gives you the opportunity to see some of the rarest, most inspirational, and most beautiful things mother nature has to offer Tor Bay. Things that landlubbers can only dream about.
Imagine this.
One day you're stand-up paddleboarding off Roundham Head in Paignton. Out of the corner of your eye, you catch a glimpse of something moving fast through the air. It's one of the peregrine falcons known to nest on the seaward-facing cliffs.
The next day you're paddleboarding along the coast near Churston/Fishcombe Coves in Brixham. All of a sudden a sleek head appears above the surface of the water. Dark eyes watch you inquisitively. You've met one of the seals that live, hunt, and play there.
At any time you could be paddling along and encounter a lone porpoise lazily making its way along the coast. Or, if you're really lucky (and if your paddleboard is classified as a small sea vessel – see earlier), you could find yourself paddling with playful schools of dolphins in the quieter and deeper waters off Berry Head.
Speaking of which, Berry Head itself is home to the south coast's largest colony of guillemots. Spending most of their lives at sea, guillemots only come to land to nest. From March to July they do this on the sheer cliffs at Berry Head.
Cormorants, shags, and kittiwakes can be found too – particularly along the rugged, island-dotted coastline near Thatcher Rock and Hope's Nose in Torquay. If you're lucky you might also see Great Crested Grebes diving in the waters off Broadsands Beach.
All that on and above the surface, while below you rare and fragile fields of flowering seagrass provide shelter and food for a host of unique marine life; sea horses, vicious velvet swimming crabs, giant barrel jellyfish, harmless basking shark, to name just a few.
It's a feast for the senses. And this is only a small sample of what Tor Bay has to offer a stand-up paddleboarder in terms of the sights and sounds of nature. As always, treat it with respect.
As the Tor Bay authority website says,
Take photos not animals home with you
Speaking of which…
Dog-Friendly Paddleboarding in Torbay
Let's talk doggy paddling. Not the swimming stroke, the sport.
Some of you might be thinking about taking your canine companions out paddleboarding with you. Obviously, there's nothing to prevent you and your furry friend from stopping off at any remote, unpopulated cove along the Torbay coastline.
But, it's important to know that, from May 1st to 30th September, there are some beaches in the bay which are much more strict when it comes to your four-legged friends. Plus, there are still rules for picking up dog mess and keeping your dog under control that must be followed.
Saying that, the rules are not that difficult to adhere to and there are still plenty of great beaches in Torbay that are dog and paddleboard friendly all year round.
The lists below are taken from the Torbay Harbour Authority website. Though they're unlikely to change much, you might want to double-check the link above if you plan on taking your dog with you.
Any beaches and coves in our guides that are not listed below are likely to have been classed by the local authority as not accessible by the dog-walking public. For the dog-paddleboarding public, however, it's probably safe to assume that such locations are okay for you and your pooch to pull up on.
Just be considerate of other paddleboarders and people exploring the coastline at low tide.
Dogs are allowed on the following beaches all year round.
Anstey's Cove

Babbacombe Beach

Beacon Cove

Churston Cove

Elberry Cove

Fairy Cove

Fishcombe Cove

Goodrington Sands – North Sands

Livermead Sands

Maidencombe Beach

Meadfoot Beach – North Eastern part of the beach

Oyster Cove

Peaked Tor Cove

Saltern Cove

Shoalstone Beach

St Marys Bay
Dogs are not allowed on the following beaches between 1 May and 30 September.
Breakwater Beach

Broadsands Beach

Corbyn Head

Goodrington Sands – South Sands: between the cliffs at the southern end and the signs at Middlestone to the North

Hollicombe Beach

Meadfoot Beach – Southwestern part between notices displayed on the foreshore

Oddicombe Beach

Paignton Sands

Preston Sands

Shoalstone Pool

Torre Abbey Sands
Help! I Don't Have a Paddleboard
Hold up! You've read everything we've written so far, love the sound of it, and are dying to get out there and give it a try. But you don't have a paddleboard?
O M G…
Obviously, there are plenty of great SUP manufacturers online. But that can mean quite a wait for delivery. What if you're already in the Torbay area, you want a paddleboard and you want it now?
Fortunately, there are plenty of places you can hire a board and a few where you can buy one straight away. Let's look at shopping for one first.
Paddleboard Showrooms – Buying a paddleboard in Torbay
There are a few places in Torbay where you can see and buy paddleboards in the flesh. We're not affiliated with any of them. We're just glad they exist! They might not have as much choice as the bigger online SUP manufacturers, but if you need one right away, they'll do the job.
Here they are in no particular order.
Let's face it, stand-up paddleboards are not cheap. Buying one is a financial commitment not to be undertaken lightly. If you've made that commitment, great.  Well done you! You've got years of fun ahead.
However, if you're undecided about the sport but have the feeling you might be missing something, you could always hire/rent one to try it out.
And hiring a paddleboard in Torbay couldn't be easier.
Paddleboard hire in Torbay
In general, hiring a stand-up paddleboard in Torbay will cost approx £15 per hr. It wouldn't surprise us if that's close to the UK average hire price too. If you've never tried paddle boarding before, it's enough to give you a very small taste of what to expect.
There are a number of places locally that can kit you out with everything you need and some that offer a lot more; including paddleboarding lessons, seasonal and weekend activities, and even club membership.
Let's face it, except for a few almost normal months in summer, stand-up paddleboarding in Torbay in 2020 sucked! In and out and back into lockdown. Deflate expectations. Inflate expectations. Deflate expectations. 2021, however, is beginning to look more promising.
Vaccines are being rolled out. Domestic holiday bookings within the UK are up massively. And the government even has a date on which most covid restrictions will cease. Which, if everything goes safely to plan, means several things.
Torbay will be open for business again. Torbay will be rammed with visitors again. Paddleboards will be everywhere again. Thank Devon for this guide, then!
It may not contain everything you need to know, but if you're into stand-up paddleboarding and you're considering visiting Torbay, it's a good start.
So, what are you waiting for? You can't still be undecided, surely?  We've told you everything we know. It's now time you found out more for yourself.
See you out there.
BTW: If you liked this guide and appreciate the amount of work that has gone into it, please don't forget to SHARE or LIKE. It keeps us motivated to produce more content. Thanks!